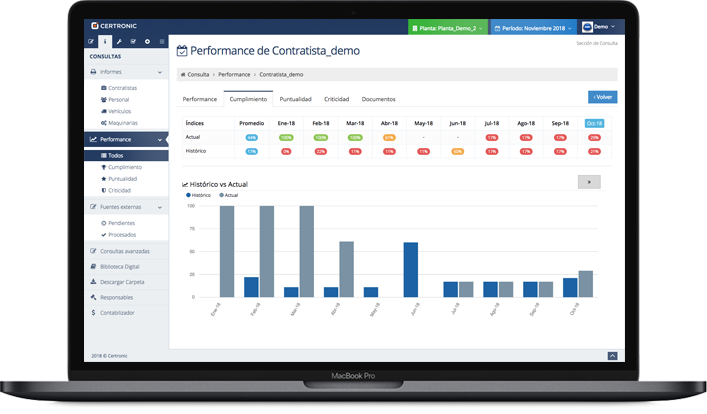 Integral Vision of Suppliers
Globally visualize the profile of each provider in relation to their compliance status, punctuality and risk.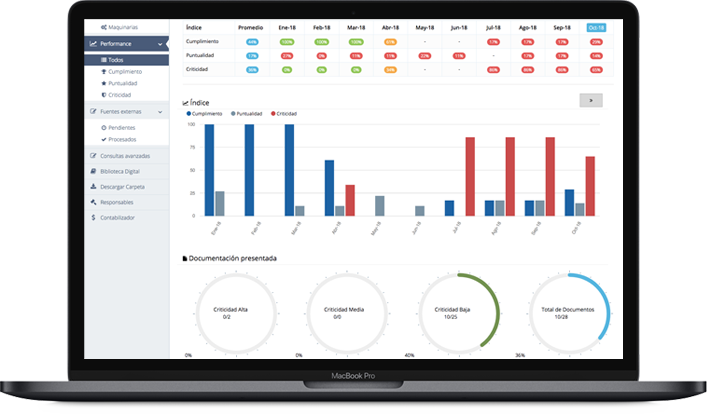 Ongoing Tracking
Conduct an ongoing tracking to rate your suppliers and protect your business from compliance risk exposure.
Polynomial Formulas
Contractor´s Analysis

On the basis of polynomial formulas, this tool allows the user to rate contracting companies according to compliance levels, risk and criticality.
Statistics
and Reports
There is a great variety of reports and statistics (PDF, Excel, Word, etc) that allow you to perform exhaustive analyses during the control process.
Historical
Records
Historical records related to the compliance state of contracting companies and their resources are available for consultation at any time.

Document Digital
Library
The platform systematically stores every document subject to control, being the same available 24/7 for consultation or download.
Notification and
Programmable Alarms
The platform has a set of programmable alarms and notifications according to the user´s preferences.

Maturity
Schedule
It is a tool that allows the user to clearly display the expiry date of each document and register events and reminders.
QR
Codes
The issue and printing of identification cards with a QR code enable the user to have detailed access to the legal authorization state and the condition of a particular resource.
Claim
Traceability
Have, at your disposal, a record of the opportunities from the moment a document has been claimed until its effective submission.
Notices
This is a tool that enables the user to produce and send individual or massive notices to the contracting company universe.
Certronic counts on different access platforms according to the user´s profile.
Company Portal
Plant Portal
Contractor Portal

Security Portal

Accounts Payable Portal

Contract Manager Portal

Certronic, a safer place for all your contents.
Amazon Web Services
Our product is completely placed in the Amazon AWS cloud since we have joined the AWS concern: "Security is our first priority". Our IT team counts on experts to implement the AWS services and/or adapt them to the user´s requirements in a safe and efficient way.


Geotrust and Rapids SSL
Geotrust and Rapid SSL represent the most recent future generation technologies for digital applications, to engage individuals and documents and ensure the integrity of the code in wireless platforms. Over 100.000 clients in more than 150 countries rely on them in order to protect their online transactions and do business on the Internet.
Data Protection
In compliance with Act N° 25.326 on Personal Data Protection, regulated by the National Bureau of Personal Data Protection, and in our capacity as Registered User, all data processed by the Certronic system are dully protected and guaranteed by the national laws and subject matter agreements.
With the different Certronic tools, you can renovate and integrate your company areas, so that either individually or simultaneously or even setting up teams during the control process, they cooperate with the contracting company universe in an efficient and safe way.
With the solutions and tools from our platform, our clients keep a step ahead of trends, take better decisions faster and permanently innovate.
Focusing on the contractors management (CM, Contractors Management) Certronic has specific tools and functions that enable the companies to perform control and assessment activities in compliance with legal regulations, corporate standards, under a joint business strategy.
What cannot be measured cannot be managed and we have the necessary abilities and elements to test the efficiency of the document control.
Each instance of document control or process generates multiple data. Certronic turns them into information and makes them available to users in different formats in order to test document control efficiency.